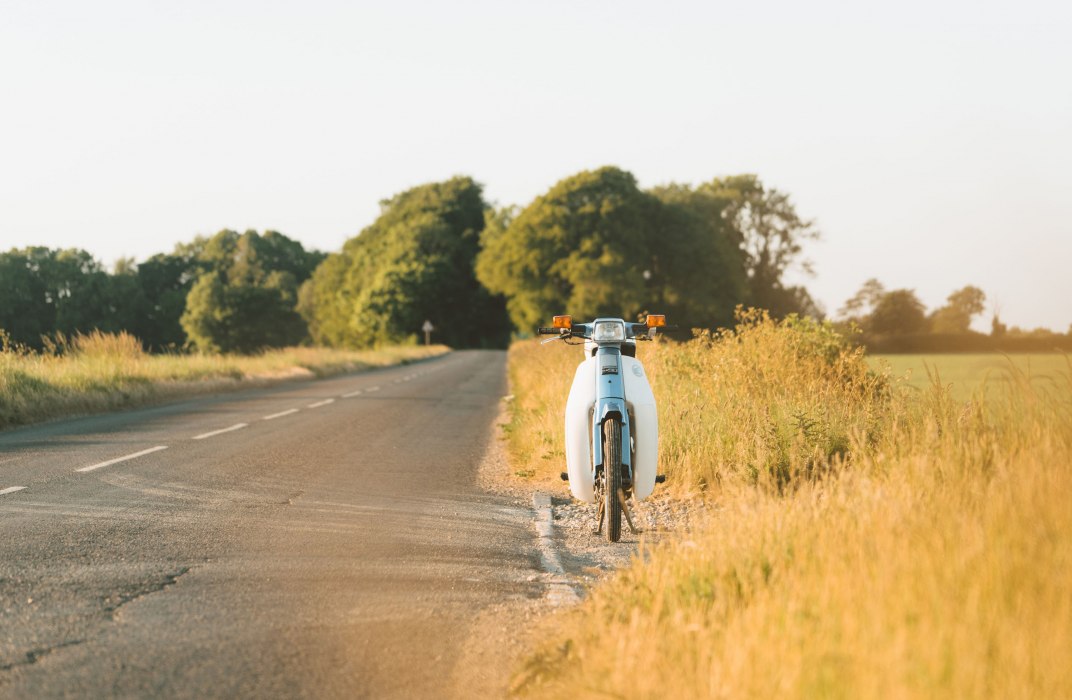 1 parmi 100 millions
Honda Cub & coucher de soleil
De tranquilles petites routes et de chaudes soirées d'été, une combinaison qui ne pourrait pas être plus adaptée à quelques tours avec mon Honda Cub. Un deux-roues, à l'origine, acheté pour rouler en ville tout en évitant le trafic. 90 centimètres cube de cylindrée et une boîte semi-automatique à trois rapports, rien qui ne pourrait sembler bien excitant… et effectivement, ce n'est pas le cas… Toutefois il ne faillit jamais à esquisser un sourire, sur mon visage ou sur celui des passants.
The quiet back lanes and the warm summer evenings couldn't be a more inviting combination to head out for some local laps on my Honda cub. A bike I originally bought for commuting into town to skip the traffic, it's 90cc engine with a low geared 3 speed semi automatic box doesn't really sound a great deal.. and well it isn't.. however it never fails to return a smile, whether by me or a random passer-by.
Au premier coup de kick, le faible son du ralenti du 4 temps procure un sentiment de réconfort. Un sentiment que j'imagine partagé mondialement par les innombrables conducteurs et conductrices de Honda Cub, le véhicule à moteur le plus produit de l'histoire avec plus de 100 millions d'exemplaires !
First kick the faint idle of the 4 stroke engine provides a comforting reassurance. A feeling I imagine shared among countless owners across the world as the Honda Cub, the most produced motor vehicle in history now surpasses the 100 million mark!
Un pincement des pneus, un coup d'oeil sur la jauge à essence, une poussée en avant pour replier la béquille et un petit coup de pied pour quitter le point mort, le Cub est rapidement en route sur le tarmac.
A quick squeeze of the tyres and a check of the fuel gauge, a push forward collapses the stand and a click down out of neutral, it's swiftly up through the gears rolling out on the tarmac.
En prenant soin d'éviter les itinéraires directs, les routes étroites à travers le paysage ondulé agissent comme un doux guide vers ma destination de ce soir. Quelques miles à suivre un coucher de soleil paisible, illuminant les champs environnants. C'est agréable d'être à nouveau là, sur deux roues, cette douce brise courant sur mon visage.
Avoiding any kind of direct route the narrow lanes amongst the undulating scenery act as a loose guide towards tonights destination. A few miles in following a leisurely setting sun exposed across the neighbouring fields, it feels good to be out on two wheels again with a light breeze running across my face.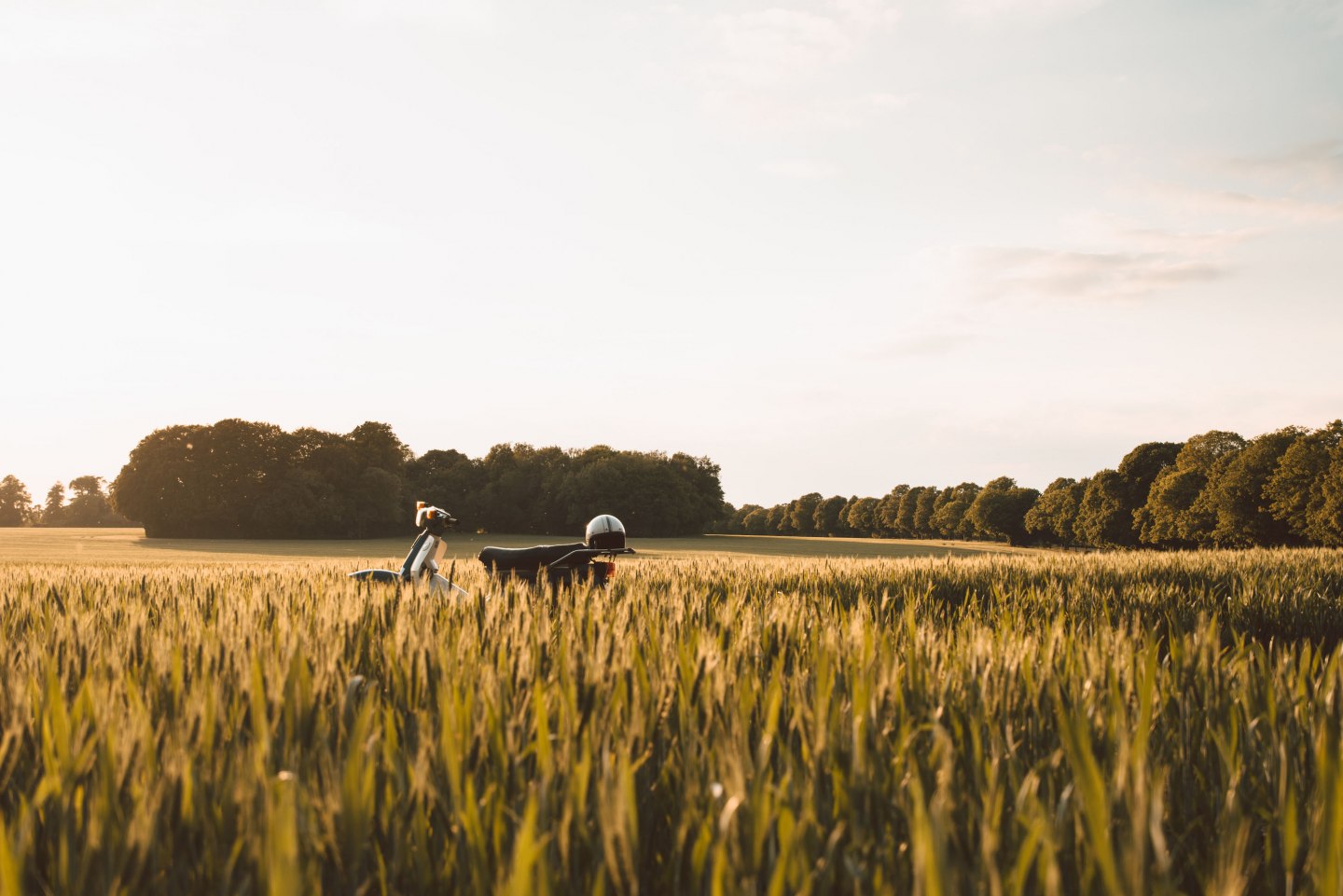 Ce paysage désert disparaît derrière moi alors qu'une petite colline me sort de la vallée pour révéler la ville de Bath, inondée de soleil dans une brume d'été. Un point de vue parfait, le Cub sur sa béquille, j'observe la ville calme et vacante, en ressentant encore à travers mes mains les vibrations du moteur.
Leaving the emptiness of the open landscapes behind, a short climb out the valley reveals the city of Bath set within a golden summer haze. Arriving at a favourite viewpoint the bike raised parked on its stand, I look across a mostly vacant city with subtle sensations still present in my hands from the engines vibration.
Même si cette soirée n'était rien de plus qu'une simple virée, elle me laisse excité et désireux de voyager encore plus sur cette petite moto. Avec mon affection pour sa simplicité, et sa réputation bien méritée alliant confiance et fiabilité, je n'ai pas de mal à comprendre pourquoi tant de propriétaires en ont fait leur compagnon de voyage.
Although this evenings ride was nothing more than a simple outing I'm left with an excitement and desire to travel further on this little bike. My fondness for it's simple characteristics paired with the confident and tough reputation it so rightly has achieved, it's easy to understand why so many have chosen this their vehicle to travel the world.